Come and follow me on Instagram!
Come and follow me over on Instagram where I share daily cooking videos, cooking tips, recipes and lots more!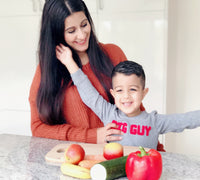 My Little Food Critic
About Me
I'm Shikha and I'm mama to a gorgeous 3 year old little boy.
I've always enjoyed cooking but when I began to think about weaning my son, I really began to think about food and nutrition. Becoming more informed about the impact of processed foods, artificial sweeteners, refined flours and sugars present in so many 'staple' daily food items we consume made me more determined to provide the most nutritious and beneficial food that I could for my son. I use my account as a platform to share realistic and healthy food ideas for toddlers and the family.